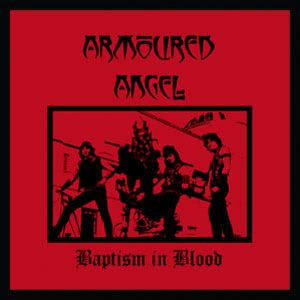 Armoured Angel - Baptism In Blood
1. Iron Legions
2. (I Am) The Beast
3. Deathwitch
4. Demon Kings
5. Thunder Down Under
6. R.I.P.
Abysmal Sounds, 2009. Original Self-released, 1985
Baptism in Blood - Titled from an instrumental track written in 1984 was initially slated as a 8 song recording. However, 2 tracks mysteriously disappeared in the final mixdown, thus leaving 6 tracks of Iron Maiden, Black Sabbath, Tank, Venom and Robert E. Howard inspired Sinister Heavy Metal. Baptism in Blood is the earliest recorded incarnation of Armoured Angel, an entity which would evolve into a more enigmatic, mystical and mythical beast eventually meeting its demise in 1999.
Abysmal Sounds has re-released this 1985 demo in its rawest form and capturing the sound and presentation of the original cassette releases. Booklet includes many old photos of the original band line-up, taken at the time of this very rare demo recording and all of the lyrics. This re-release has not been re-mixed or re-mastered in any way. This is mayhem without mercy from Australia´s profound Iron Legions!
Further information can be found at the band's [website] and [Myspace]
---