Aurora Australis Records
· Culture · Tradition · Spirituality ·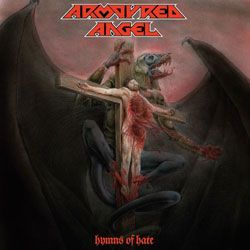 Armoured Angel - Hymns of Hate
Disc 1
1. Hymn of Hate
2. Beyond the Sacrament
3. Stigmartyr
4. Ordained in Darkness
5. Myth of Creation
6. Heir to Evil
7. Enigmatize
8. Carved in Sin
9. Pray for Me
10. Elegy
Disc 2
1. Armoured Angel
2. Madame Guillotine
3. Christian Slaughter
4. Crush, Kill, Destroy
5. Castration
6. Tergiversator
7. Communion
8. My Fist, Your Face
9. Thy Blood Eterne
10. Gulka
11. Way of Sorrows
12. Oriax
Raven / Abysmal Sounds, 2012
Armoured Angel are the purveyors of dark religious imagery. Archaic script set to a bludgeoning score brand Armoured Ange´s unique brand. Sordid perversions of christianity, powerful riffing and haunting rhythms unite to paint a truly enigmatic picture.
Double CD release containing remasters of Stigmartyr, Mysterium, Wings of Death, Communion, Promotional demo 1995, plus enhanced video film clips of Enigmatize and Elegy.
All tracks are remastered ("promo demo 1995" has also been remixed).
Disc 1. [1-4] Stigmartyr EP (1992); [5-10] Mysterium EP (1994).
Disc 2. [1-4] Wings of Death demo (1989); [5-8] Communion demo (1990); [9-12] Demo 1995 (recorded in 1995, officially unreleased before this compilation).
Further information: [Abysmal Sounds]
---